Numerology For No. 8
Famous Personalities With
No. 8 As Day Number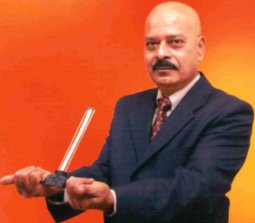 ---
Fateful Events of No. 8
Numerology for No. 8 gives Renunciation and God Realization on one side and creates criminals too.
You know this if you analyze the lives of famous people born with Day No. 8, from the list given below.
Their biographies tell you more about how 8 acts with any Life No. from 1 to 9 and your Name Number.
It is our finding that whether No. 8 makes you a God Man, Criminal, or Unlucky, it can be made Lucky if you take the help of No. 5 in your Name.
---
Power of Name Correction
In name numerology, if your day number is 8, you should not have a life number of 4, 7 or 3. These worsen the sufferings of this number. You can make it lucky by correcting your name by an expert with a good vibration.
---
The 8 Persons
| Name | Date Of Birth | Day Number | Life Number |
| --- | --- | --- | --- |
| Benjamin Franklin | 17-01-1706 | 8 | 5 |
| E.V Ramasamy Naicker | 17-09-1879 | 8 | 6 |
| M G Ramachandran | 17-01-1917 | 8 | 9 |
| Swami Sivananda | 08-09-1887 | 8 | 5 |
| John Davison Rockfeller | 08-07-1839 | 8 | 9 |
| Victor Marie Hugo | 26-02-1802 | 8 | 3 |
| Edward Jenner | 17-01-1810 | 8 | 9 |
| Harry S Truman | 08-05-1884 | 8 | 7 |
| Georgi Melenkov | 08-01-1902 | 8 | 3 |
| Elizabeth Taylor | 17-01-1901 | 8 | 2 |
| Guru Nanak | 08-11-1470 | 8 | 4 |
| George Bernard Shaw | 26-07-1856 | 8 | 8 |
| Queen Mary | 17-02-1800 | 8 | 1 |
| Mary Queen Of Scott | 08-12-1883 | 8 | 4 |
| Hyder Ali | 08-12-1722 | 8 | 5 |
| Ishwar Chandra Vidyasagar | 26-09-1820 | 8 | 1 |
| Bernadotte | 26-01-1764 | 8 | 9 |
Other Famous Persons
Famous Persons With Day No. 1, 2, 3, 4, 5, 6, 7, 8, 9
---
Basics-Of-Numerology
Name-Numerology For No. 1, 2, 3, 4, 5, 6, 7, 8, 9
Why Choose Lucky Baby Names
Lucky Tips For Business Success!
Love Life Mate Compatibility!
Know The Author Kannan M
Qualifications of Author Kannan M
Lucky Name Numerology
---