Lucky Name Numerology By Kannan M & 
Dr.J. Lakshmi Jeya Swaruoopa

---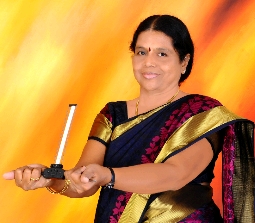 Kannan M's Disciple
Dr.J. Lakshmi Jeya Swaruoopa is the disciple of Kannan M, the legend in name numerology.
She understood how the power and the vibrations of the names transform people's lives and make them successful.
Click This Link
to know the founder and disciple's Qualifications and
Credentials.
---
About Her Research
Dr.J. Lakshmi Jeya Swaruoopa helped Kannan M's research in the early 70s & idolised Kannan M for his genius and his findings in Name Vibrations
She followed him & evinced a great interest in the study of
numbers, alphabets
corresponding planetary vibration and discovered the curative powers of numbers
---
Successful Name Numerologist
Dr.J. Lakshmi Jeya Swaruoopa did her own research into people's lives who had different numbers, how it controlled their characteristics and how numbers decide people's destiny.
She found out Kannan M's discoveries to be the most accurate since a name can attain full success only when the vibrations are positive.
---
Crowned with Success
Her Expertise in Name Numerology
Being the best disciple of the genius Kannan M she believes her knowledge in
horary astrology
, graphology and
Scientific Measurements of vibrations
coming from your names is the key for success
She believes people must never lose hope as long as there is a way in turning the tide by getting a perfectly lucky name that can transform your life positively
---
Popular TV star
And Fortune on the move
Dr.J. Lakshmi Jeya Swaruoopa is a very successful and very popular Name Numerologist in Tamil nadu enlightening people through TV shows in very famous satellite channels around South India & has experience of serving clients over 25 years alongside the genius Kannan M.
So many clients from different places idolise her for making them successful through Lucky Name. They request her to visit them and consider her to be good fortune on the move
---
Celebrities Good Luck Charm
So many cinema stars, sports stars, politicians and other well known personalities in South India are very grateful clients to her for their success and consider her their ultimate good luck charm.
---
Trained Bioenergitician
Dr.J. Lakshmi Jeya Swaruoopa is trained by the No.1 Bioenergitician in India Kannan M. She uses
Lecher Antenna
to measure the name's good and evil vibe. She believes this is the most accurate and scientific way to get 100 percent perfect lucky name.
Like Our Facebook Page On Lucky Name Numerology!
---
Take Scientific Help
If you are not lucky with your present name, better change it. Use  our expert help, in the contact page. We design and give you the most Lucky Baby Names, Lucky Business Names, & Lucky Personal Names.
We correct your signature, prescribe Lucky Numbers,  Lucky Days, and Lucky Gems.  We confirm their accuracy by numerology, horary astrology, and with the Lecher Antenna to Ensure your Success!
---
Basic Concepts
Name-Numerology For No. 1, 2, 3, 4, 5, 6, 7, 8, 9
contact Us For Your Lucky Names And Success
Importance of Lucky Numbers
Science of Luck!
Winners Use Their Lucky Numbers
Power of Names!
Numerological Tips For Business Success!
Numerological Compatibility Decides Your Success!
Divinity of Number Seven
Love Life Mate Number Compatibility
Numerological Compatibility For Success- Who Will Help You?
Numerological Compatibility For Happy Married Life
Secrets of Number Seven
Power of Number 7
Know The Disciple Dr.J.Lakshmi Jeya Swaruoopa
Qualifications of the Founder and his Disciple
Know The Founder Kannan M

<!- end code -> <!- end code ->
---